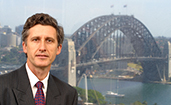 Philip commenced his career at Rio Tinto (then CRA) with his departing position being a Manager Mining Broken Hill Operations. After 11 years with Rio Tinto, Philip joined Normandy Mining as Group Mining Engineer. In this role Philip participated in all major corporate acquisitions undertaken by Normandy over a 10 year period. Acquisitions included Mt Leyshon, North's Tennant Creek assets, Australian Consolidated Minerals, Aztec Limited, Boddington gold mine, BRGM properties and the merger of Poseidon Gold, GMK and North Flinders Mines.
In 1997, Philip joined J.P. Morgan as Vice President, Investment Banking where he specialised in mergers and acquisitions in the resource sector. Transactions and advice included sale of Peabody's Australian coal assets, Pechiney's bid for Worsley Alumina and the sale of ARCO's Australian coal mines.
In 2001 Philip established an advisory firm specialising in the resources sector. Major assignments included provision of acquisition and strategic advice to MIM and to several banks. Philip joined Pacific Road in late 2002 where he has been involved in gold, copper, coal and iron ore projects in Australia and Asia.
Philip holds a Bachelor of Engineering (Hons) Mining. He also attended the Mt Eliza Advanced Management Program and J.P. Morgan's Associate program in New York.
Contact: philip.ashley@keypacific.com